Case scenario
A patient with fever and wound infection
History
Four days following the surgical operation a patient developed fever and noticed discharge of pus from the wound. The pus was yellow in color, thick and copious.
Examination
Revealed a temperature of 101oC and pulse rate of 110/min
Investigations
Blood was taken for complete picture. Pus was collected and sent for Gram stain and culture.
Treatment
After collection of samples, the wound was cleaned thoroughly, pus was drained and he was empirically started on Amoxicillin/clavulanate 1 GM, 12 hourly pending sensitivity results.
Results of investigations
Blood CP showed a total leukocyte count of 15,000. The Gram stain of the pus showed Gram positive cocci arranged mostly in clusters. The cultures yielded growth of smooth, white, shiny non hemolytic colonies and the Mac Conkey's agar yielded similar colonies which were lactose fermenting. This organism with catalase and coagulase positive and showed following antibiogram.
Pen – R, Amp – R, Met – S, Gen, Sip and AMC – S
Tasks:
Q1. What could be the source of infection in this case?
Q2. What is this organism and what infections it can cause?
Q3. What is the significance of Methicillin (β-lactamase stable synthetic) sensitivity and resistance?
Q4. To which group of antibiotics Amoxicillin/clavulanate belong?
Q5. What measures could be taken to prevent such an infection?
Explanation
Selective and Differential Media
If a bacterial growth medium is selective, that means that it grows only certain types of microbes while inhibiting the growth of others. Agar is considered a differential growth medium if, when specific microbes are present, the medium or bacterial colonies themselves exhibit a color change that provides information about their identity.
Media = mixtures of nutrients that the microbes need to live. Also provides a surface and the necessary moisture and pH to support microbial growth.
Tryptic Soy Agar (TSY) Complex nutrient media which supports the growth of a wide variety of microbes.
Blood Agar = very dark red
McConkeys = lighter, purplish-pink
Mannitol Salt -= orangish-pink
MacConkey's is both a selective & differential media.
Most specimens received in a clinical microbiology lab are plated onto Blood Agar, since it supports the growth of most organisms (contains 5% sheep blood).
This media is differential because:
Certain bacteria produce enzymes (hemolysins…hemo-lice-ins) that act on the red cells to produce either:
Beta hemolysis: Enzymes lyse the blood cells completely, producing a clear area around the colony.
Alpha hemolysis: Incomplete hemolysis produces a greenish discoloration around the colony.
Gamma hemolysis: No effect on the red cells.
Microbiologist try to detect Group A beta hemolytic Streptococci (a Gram-positive cocci causes Beta hemolysis on blood agar.)
Major human pathogen in this group is Streptococcus pyogenes; causative agent of strep throat.
Normal throat flora will exhibit alpha or gamma hemolysis. Beta means strep.
Mannitol Salt
(abbreviated MSA)
Is a selective media with a high concentration of NaCI (7.5%).
Most bacteria cannot survive in this environment.
The genus Staphylococcus, however, grows well in this media. Mannitol Salt is also differential because it contains a dye that identifies organisms that ferment mannitol. The organic acids produced change the dye from red to yellow.
This medium works well for identifying pathogenic staphylococci, such as Staphylococcus aureus, which will ferment mannitol.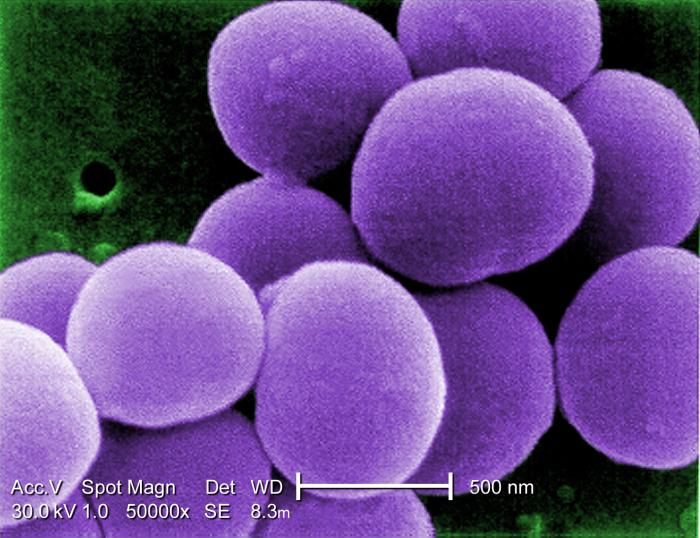 Most non-pathogenic staphylococci will not ferment mannitol.
Four Types of Superbugs: VRSA, VRE, MRSA and NDM-1
New Delhi metallo-beta-lactamase-1 (NDM-1)
vancomycin-resistant enterococci
Vancomycin-resistant Staphylococcus aureus
Methicillin-resistant Staphylococcus aureus
Gram positive
Non-motile
Spherical
Grows in chains
Resembles clumps of grapes
Golden color
Hemolytic pattern on blood agar
Produces coagulase and catalase enzymes
Coagulase Complex-Seals off infection, preventing phagocytic engulfment
Protease, lipase, & DNase provide nourishment for MRSA bacterium
FAME-(Fatty acid modifying enzyme) modifies the anti-bacterial lipids side chain-inactivating antibiotic action
Staphylokinase-Fibrinolysisn aids the in spreading factor
Hyaluronidase- Destroys connective tissue
MRSA Drugs of Choice:
Linezolid-Protein synthesis inhibitor Daptomycin-Causes membrane depolarization in bacteria-so no membrane transport
Vancomycin-Acts by interfering with the construction of cell wall. Still works well with other antibiotics
Alternatives: Synercid, Rifampin
Third-Line agents: TMP-SMX (Sulfa)
Draining infections must be kept covered
Talk to your physician about wound management techniques
Wash hands frequently with soap and water
Avoid sharing personal items
Wipe objects down with alcohol.
Advise health care workers to wash their hands before touching you or your hospital equipment
Sources of infection:
Integument injury
Burns and trauma
Foreign objects
A history of chronic Infections
Hormonal changes and stress
Immunocompromised
Want a clearer concept, also read